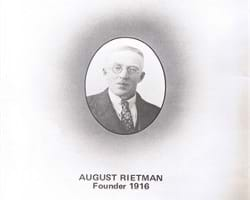 Rietmans was established in 1916 by August Rietman and is a 4th generation family business.
Rietmans offers linear brick fence and brick pier capping in a range of profiles to suit the style of your home. Our pre-cast, individually handcrafted sand cement capping range gives your brick fence and piers a designer finish, which is sure to enhance all commercial and domestic properties. We also offer fence rendering services, to give your fence an updated modern look and compliment your capping style.
Our other services include traditional house rendering and restorations, structural repairs, internal and external sand cement mouldings and repairs as well as a range of handcrafted garden ornaments and pots which will compliment your fence capping or simply lift the aesthetics of your property.
Rietmans is a trusted supplier of Melbourne sand cement designs and restoration services with focus on, quality, advice and serviceability.
Servicing Melbourne metro and all of regional Victoria, including South Gippsland, Ballarat, Bendigo Mildura, as well as Sydney, N.S.W., Canberra, Adelaide and other areas of Australia, we manufacture a stylish and distinctive range of handcrafted sand cement products.
If you wish to know more about our products and services, or for installation advice, get in touch with our team at 03 9939 9025 (7 days). Alternatively, you can contact us through our online form or email us at info@rietmans.com.au.