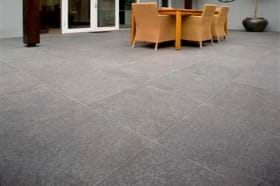 Buyers should be aware that natural stones are a product of nature and therefore variation in thickness, dimension sizes, tones, shadowing, veining, texture and colour is inherent over and above the specifications and samples.
We have a rigorous quality control system and we take great care in checking the material prior to dispatch from the quarries, however being a natural product there could be minor variations in dimensions and thickness.
Buyers should be aware that there could be some material with minor chips due to the weight of the stone and the distance of transportation. These chipped pieces are generally used for cutting. We suggest that you order the industry standard of 10% extra to allow for wastage and cutting on site and spares.
This is true all for all natural stone tiles, pavers and cladding regardless of its origin and is no different to ceramic, porcelain or vitrified tiles or brick or concrete pavers.
Samples only represent the general characteristics of the stone.
We recommend you test the material for suitability of application.
Sealing is recommended depending on the product & application of the stone.
We strongly recommend pre-sealing sandstone with the appropriate sealer before laying it around a salt water pool to help reduce the risk of salt attack.
Do not use any acid wash to clean Black Granite or Black Limestone.
A pH neutral cleaner is recommended

We recommend our stone pavers be laid on a concrete slab with a sand cement moist mortar or suitable glue which will allow for minor variations in the dimensions and thickness of the stone.
Before undertaking any flooring or walling project please consult a licensed tradesperson or contact us and we will assist you with the selection of the most appropriate product for your application